CAMAF, a trusted medical aid in a class of its own
CAMAF provides a range of benefits for chartered accountants in South Africa.
Established 70 years ago, the Chartered Accountants (SA) Medical Aid Fund, was designed to offer superior benefits to its qualifying members in the accounting profession.

As the fund focuses on the niche market, it is able to provide a range of benefits that significantly surpass those offered by most open schemes.
Always ahead of the curve, CAMAF strongly values innovation, and covers many procedures performed with the very latest technology. It also has a distinctly holistic focus, combining excellent healthcare benefits with an actively managed wellness programme.
"Our principal aim is to offer our members a peace of mind medical scheme to keep them healthy and well, and to help them manage their healthcare needs in the most effective way." 
CAMAF prides itself on the relationships it creates with its member firms to ensure that the delivery of service demanded by its members is met and, where possible, exceeded. Our offering is tailored to compliment the unique healthcare requirements of our members who operate in demanding and highly stressful professions.
CAMAF has adopted a private banking approach to all its members. The aim is to provide a personalised service, where members are recognised as individuals with specific needs, and who require individual attention.
"Ensuring delivery of an excellent and a personalised service with benefit structure in a class of its own."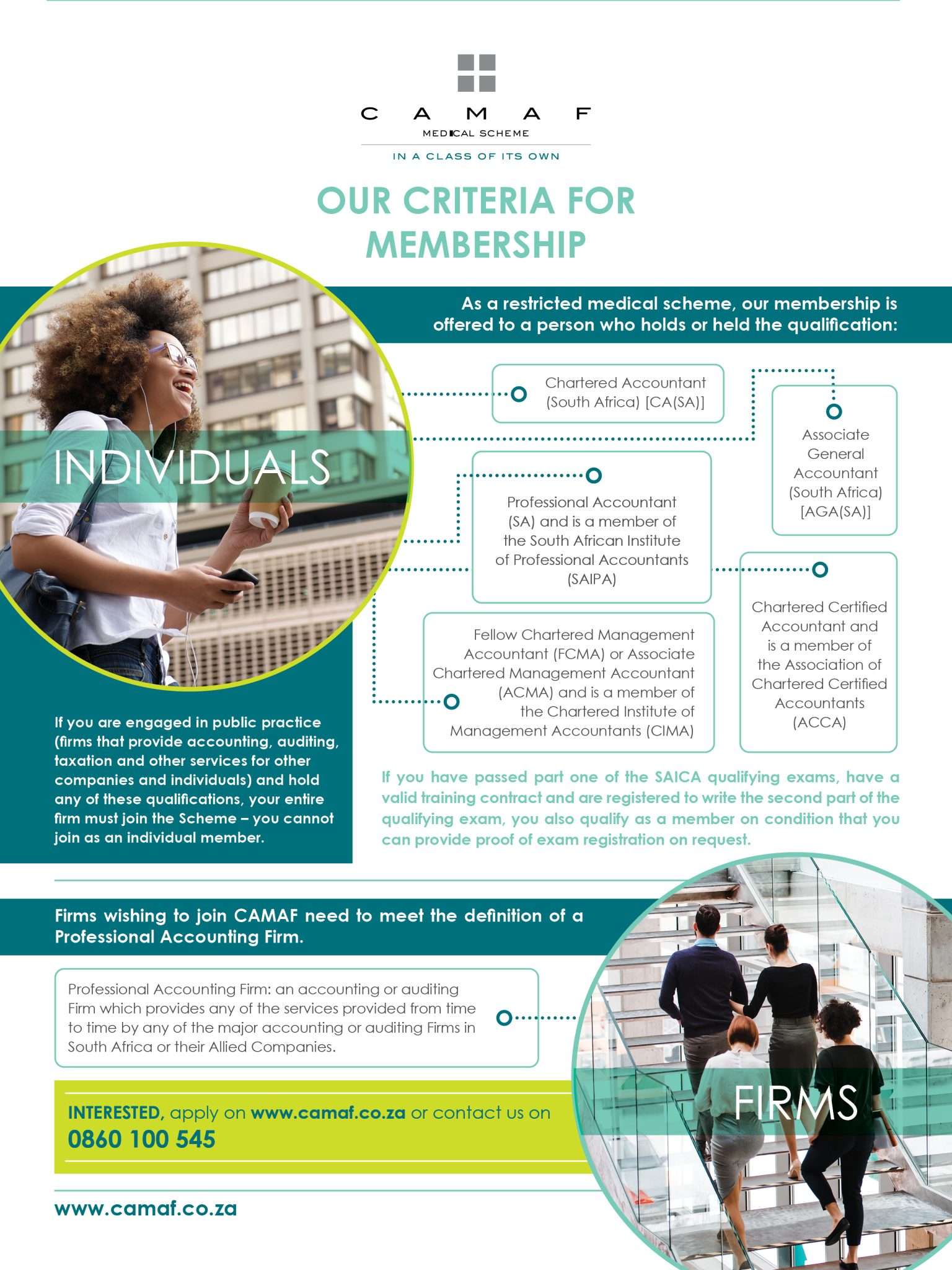 What puts CAMAF in a class of its own?
Our excellent cover, unmatched personalised service, and our real commitment to ensuring that in both good and bad times, we are there for our members, put CAMAF in a class of its own.
Wellness solutions
In keeping with the general trend away from a focus on illness, CAMAF's healthcare approach emphasises health and wellbeing of our members. Thus, our approach to wellness focuses on prevention and management of disease – tailor-made to each individual.
Through the quality of life management, preventative wellness programmes and targeted managed care interventions, CAMAF addresses the unique needs of our member firms and members.
Our corporate wellness solutions, supported by Multiply as our wellness partner, are focussed on delivering impactful solutions for our members and member firms through creation, implementation and coordination of integrated wellness plans focussing on member engagement and interaction.

Our free Online Wellness Club offers our members information and practical tools to equip them with the resources, knowledge and motivation to live a healthier, more productive life.