Networking with authenticity: women CFOs and mentees dine and discuss
How can women be more effective in the workplace? And in life? On 17 August 2017, CFO South Africa hosted this year's Women's Dinner at the Saxon Hotel in Sandton to provide a networking opportunity and panel of inspirational speakers for women CFOs. The delegates had been encouraged to bring their mentees to the event, to share in the insights.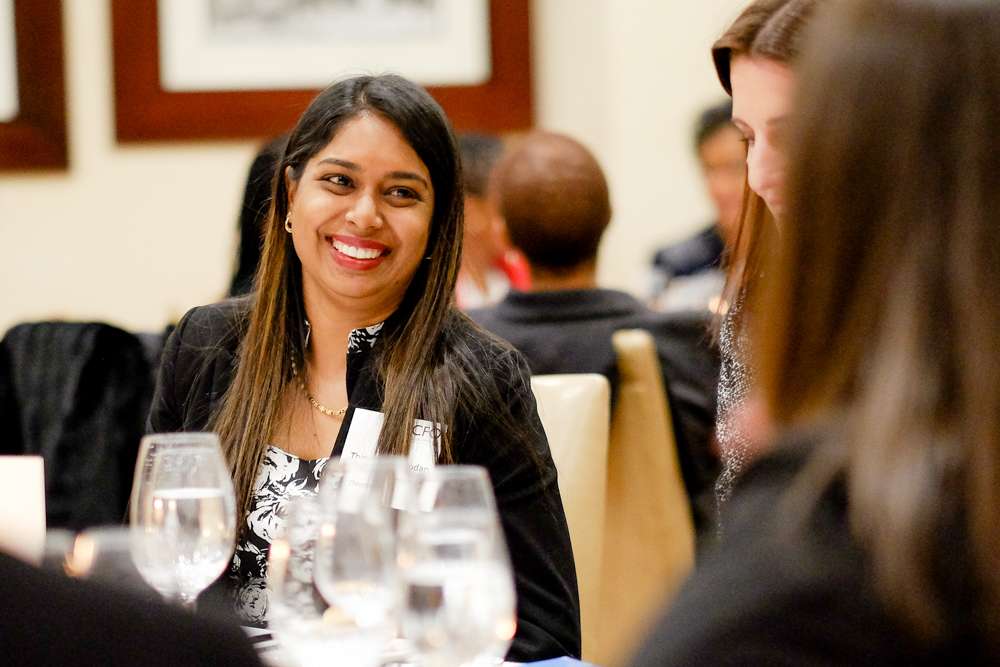 Before the seated dinner, delegates were treated to a panel discussion with insights from three successful women: Nonkululeko Gobodo, CEO of Nkululeko Leadership Consulting and one of the founders of the firm SizweNtsalubaGobodo, Aarti Takoordeen, CFO of the JSE and Inge Walters, founder of Eve Learning.
The three women come from three very different backgrounds, but what stood out about their presentations was the authenticity of their sharing. These women are not trying to fit into the mould of a successful woman, they are shaping their own success.
Inge opened the discussion with a presentation on the power of networking with authenticity. She provided four main thinking points to encourage women to interact with one another in a professional situation to benefit from establishing a network.
The first thing to think about in shifting your mindset is about breadth versus depth and our willingness to have relationships with other people without it having to be intense each time. We should develop the ability to see networking as more of an opportunity to get to know somebody and see if it could lead to a deeper connection - not every connection has to lead to business, or a sale."
She also said that women are not typically comfortable with the idea of professional reciprocity - they often feel that it's a sleazy exchange. And yet they are very comfortable supporting other women in their personal lives. So she encouraged women to embrace the approach in their professional lives as well.
She added that networking has to be something that women see as something that they want to do rather than have to do, and urged women to stick their necks out and refer other women for opportunities without reservation.
And finally, she made the point that networking doesn't have to be about typically masculine outings like golf days, but that women can lead the change in facilitating cultural or learning experiences like city walks or interesting courses as networking opportunities instead.
Aarti spoke about working in the world of finance when not coming from a background that includes a leading private school or articling at a Big Four accounting firm.
"I came from a very underprivileged background and I find that there are some white jokes and some rich people jokes that I just don't get. My bucket list is challenged by my exposure to life. I didn't know the Northern Lights existed until last year. But I've made a point of approaching that by saying, 'This is who I am. I am anything but a private school boy.' I am actually proud of it - I have the advantage of disadvantage as Malcolm Gladwell calls it."
And Nonkululeko discussed the challenges of trying to build a successful business while also being a parent - and in her case a single mother.
"I divorced early, at the age of 34, with three children and my ex didn't help in terms of parenting or finance, so I had to make choices. I was very clear that I was ambitious and I wanted a career, but I also had the huge responsibility of raising my children. Being a single mother is one of the hardest things you can do, but I told myself that if I sacrifice my career for them, I will regret it. So I tried to do both those things, to find the strength somewhere, but it came at a high cost to me and the kids."
She said that her managing partner thought she was a superwoman because she could do all these things, but she often cried herself to sleep in strange hotel rooms because she was leaving her children with her mother. She made a point of diarising one rugby match a year, so that she could be there for her children.
"Looking back now, I still feel that I would regret it if I tried to slow down or look for better options. You only have one shot at building the fifth largest accounting firm."
After the panel discussion, the delegates and their mentees enjoyed a networking dinner, with the proviso that they had to select mentors other than their own to spend the evening with - and then switch again before dessert. Emboldened by the words of the panellists, the mentees did exactly this with confidence and, it is hoped, a great deal of authenticity.