Here's what makes a great CFO: retiring CFO Awards judge Carel Smit explains
"I learned more from the CFO interviews than what I ever thought was possible.," says KPMG top partner.
"It has been fascinating for me to see how the role of finance has changed during my 34 years at KPMG," says Carel Smit, a CFO Awards judge since 2015, who earned his formidable stripes mostly in the mining sector. 
"Today, successful CFOs need to

be involved in setting business strategy
ensure the finance function aligns 100 percent with the strategy and vision
know the risks threatening the business 
have good communications skills to align people behind strategy."
Strong CFOs "see risks from a mile away", says Carel, who puts even more emphasis on the people-aspect of the finance leadership role. "You need to be able to make people see the bigger picture. I seldom see successful CFOs without excellent communication skills, motivation skills, passion for the business and being an integral part of the strategy of the business. In the end, people are company's only sustainable competitive edge. You need to give your people purpose and set clear goals. Keep things simple, because vague goals bring vague results."
(Photo on the right: Carel with IDC CFO Nonkululeko Dlamini during the interview process for the 2018 CFO Awards.)
Carel is retiring from KPMG in March 2019 and will also step down as a judge for the CFO Awards after playing an important role in the panel over the past four years. "I just returned from a fabulous time in London (visiting my daughter) and a brilliant holiday with my wife and youngest daughter in Italy," he wrote to his colleagues.
"The taste of freedom and the time to think made me realise how short life is and I took the decision to retire from KPMG after 34 years (27 years as a partner) at the end of March 2019. It is with excitement (and trepidation!) that I look forward to the future. It is with gratitude that I look back over my time at KPMG and all the opportunities I had. I can truly say I lived a life that I could not have dreamt about. I would like to thank each of you for the amazing input into my life and career."
Carel says he is looking forward to spending more time with his wife and soulmate Nelma, a retired lawyer to whom he has been married for 32 years. "I was brought up in a single parent family. My mother was a very strong woman and my choice has always been for strong women in my life. I am also very proud to say I have two very strong daughters of 27 and 25."
(Photo on the left: Carel with AngloGold Ashanti CFO Christine Ramon at the 2016 CFO Awards. Christine was elected CFO of the Year in 2018.)
 
Among his career highlights, Carel mentions being an independent advisor and challenger, building a strong mining practice, assisting the listing of businesses on stock exchanges in Johannesburg, New York and London and helping South African business expand its wings into the rest of the continent - and the world - after the dawn of democracy. 
He also mentions the change from SA GAAP to IFRS as a big deal during his tenure and reflects somewhat philosophically on the ebbs and flows of global business strategies. "Everything goes in cycles. At some stage, it was the in-thing to become conglomerates and put everything together. Later it was all about breaking corporates up and get them to specialise, as shareholders wanted to be able to choose geographies and types of businesses."
Carel has been active in the mining industry for 26 years. He says that things are looking better than last year, but is still only cautiously optimistic.
(Photo on the right: Carel with IIA SA CEO Claudelle von Eck at the annual CFO Awards judges dinner.)

"If you believe all the reports, we are the number one country for minerals in the world, but we are after many years, still at a crossroads. We need investment. For that to happen, we need certainty because mining is a long term game. It takes between five to ten years to develop a mine and then you want to operate it for 20 years. Clarity about things like ownership rights and tax regimes are very important. I have always seen mining as a partnership between labour, communities, government and shareholders. There needs to be a common goal and vision. The same goes for the rest of the continent. Africa holds 33 percent of the world's mineral resources. How do you turn this into a blessing?"
Carel is full of praise for CFO South Africa, calling it "fantastic that there is a community where peers can come together to chat about common challenges". He says he "thoroughly enjoyed the role" as member of the CFO Awards judging panel. "I learned more from the CFO interviews than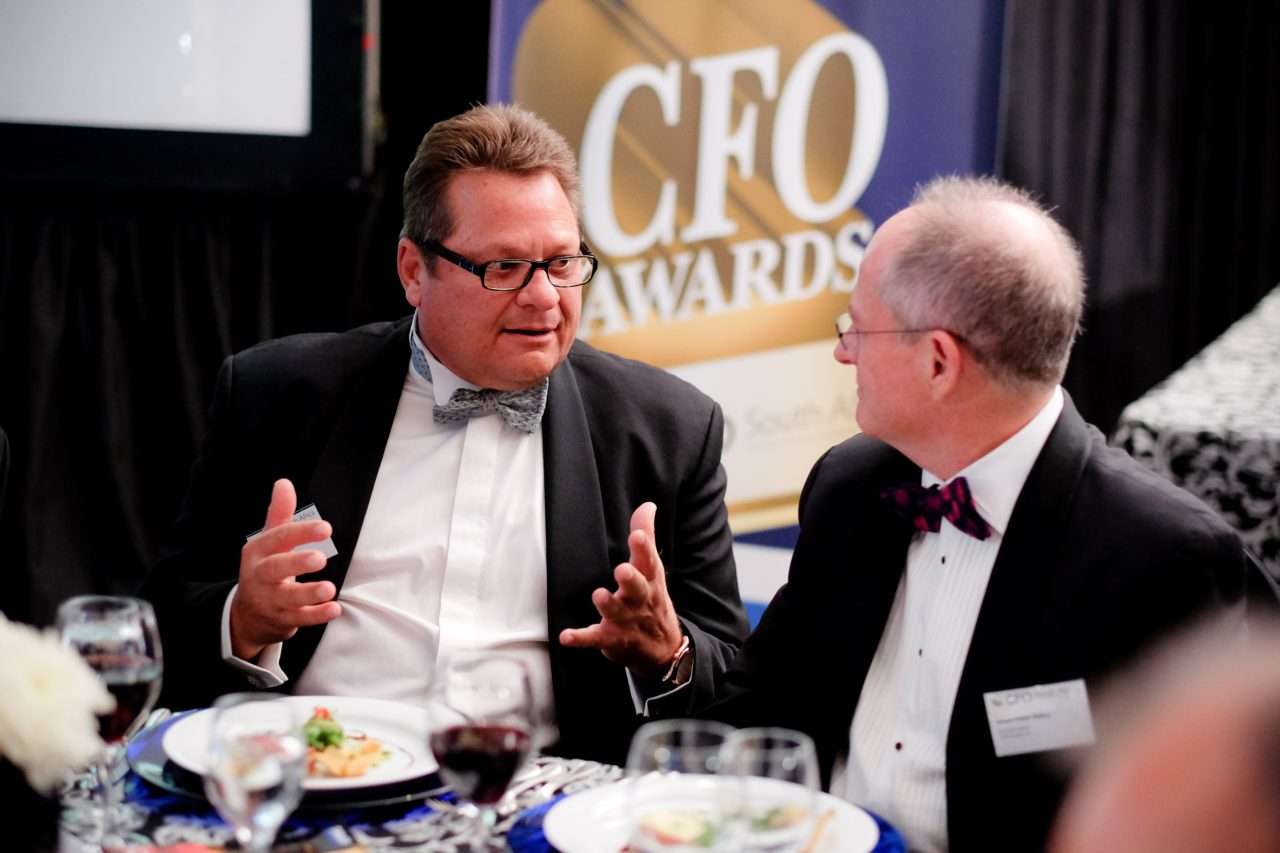 what I ever thought was possible. It was especially great to chat to young CFOs coming through the ranks and to hear what keeps them awake at night. The discussions were always very open and honest. The CFOs that impressed me the most were the ones who could see the bigger picture. Along with communication and empowering people, those are the things that make a good CFO great."
(Photo on the left: Carel with former Standard Bank FD Simon Ridley - CFO of the Year 2014 - during the 2015 CFO Awards).
It has been a difficult time for KPMG, after a year of headlines tying the firm to instances of state capture and corruption. "It has been very difficult, but I have a philosophical view," says Carel. "We cannot change the past, the firm accepted responsibility, learned lessons and made far-reaching reforms in the rebuild process. Strong people survive. I look back in gratitude for all the opportunities that I have received at KPMG. I'm really proud of what we have achieved during those 34 years, which makes this last year a sad chapter. There is an old Indian saying: 'If it is not ok, it is not the end yet.'"