Bowmans CFO Jo-Ann Pohl connects the corporate world to meaningful philanthropy
Bowmans CFO Jo-Ann Pohl supports the non-profit organisation Charities Aid Foundation Southern Africa in her personal capacity. She believes in using her technical finance, strategy execution, and reporting skills to not only build her career but to also uplift disadvantaged people.
Following months of extremely negative sentiment about South Africa, Jo-Ann Pohl, the Group CFO of law firm Bowmans, rises above the negativity by injecting a dose of optimism about the country. 
"I am proudly South African. We have an incredible country; whether you look at business opportunities or the weather. We have the most beautiful sunsets. The sun sets, and it rises again differently the next day. But we don't necessarily tell our good news story well," the highly energetic Jo-Ann tells CFO South Africa.
Jo-Ann strives to be part of the solution to South Africa's problems. One of the many ways she does this is through her unwavering support of Charities Aid Foundation Southern Africa (CAFSA), a non-profit organisation that connects companies to charities to drive effective philanthropy and making it part of everyday life.
Describing the work that CAFSA has been doing since 1997, its CEO Gill Bates says: "We function as an intermediary. We play in the space of the corporate world, philanthropy and civil society via the non-profit sector. We facilitate the flow of funding from philanthropy into civil society. It is also about doing the right amount of good and ensuring that we have the right kind of impact on society."
CAFSA is a member of the Charities Aid Foundation Global Alliance, which has offices in nine jurisdictions, among them, South Africa, the UK, Australia, and Brazil. In addition to facilitating the flow of funding to charities, CAFSA advises companies on how to execute their corporate social investment (CSI) activities, meaningfully align CSI activities to their Black Economic Empowerment (BEE) profile and verifying the authenticity of charities/non-profit organisations.
"CSI and charity work are not the core business of companies. They want to make sure that they leverage their contributions and that's when we step in to help them," says Gill. CAFSA has clocked up the biggest names in business as clients such as Deloitte, Nedbank, Sasol, Absa, AngloGold Ashanti, Shell and others.
Through her more than ten years of involvement with CAFSA, Jo-Ann's contribution has helped CAFSA support many corporates to refine and improve their CSI activities in areas such as advocacy, giving opportunities that make a sustainable difference, skills-based volunteering programmes, education and early childhood development. Education, especially at the foundation phase, is Jo-Ann's biggest passion.
"If you take the time to invest in someone else's education, you can change the world. If you can change an eight-year-old's view of the world, you will change an entire generation," she says.
Photo: A very proud and warm hearted birthday girl.
Jo-Ann's initial support of CAFSA
Jo-Ann has had a high-flying finance career that spans 18 years in the financial services industry, working for Barclays Africa and Middle East, Ubank, Standard Chartered Bank Telesure Investment Holdings, and various board roles. She made the move to legal services in 2017 at Bowmans, where she is the Group CFO.
In two decades, Jo-Ann has acquired technical skills in finance, reporting, executing strategy and regulatory compliance, which she offers (pro bono) at CAFSA as its board chairperson. Jo-Ann started working with CAFSA in 2007 when she was the CFO of Ubank, which operates in the microfinance sector targeting mostly mineworkers and lower-income workers. While at Ubank, Jo-Ann realised that she could increase the impact and how she help disadvantaged people.
"There were moments where I would work as a bank teller at Ubank to understand how our clients (lower-income workers) felt when interacting with our staff and operations. When you are sitting across from someone who cannot withdraw money because they don't have it or they cannot afford to pay bank charges, it makes you want to reinvent financial services and help them. Adversity fuels innovation and I realised that there was so much more that I can do to use my technical finance skills – not just in the workplace – but in a broader charitable way."
Jo-Ann then reached out to CAFSA, asking to work with the organisation. She was appointed on the board's audit committee, working on transforming CAFSA into a financially sustainable non-profit organisation.
"We set up a sustainable accounting function at CAFSA. When I started working with CAFSA, there was a limited accounting and reporting process in place. We put in accounting infrastructure and processes, and relevant governance structures such as the governance, remuneration and strategic committees (tasked with growing its pipeline of clients)."
These initiatives with her and her CAFSA colleagues, have paid off. CAFSA now owns the building from which it operates at the Maboneng Precinct, located at the heart of Johannesburg CBD. CAFSA's financial statements regularly receive an unqualified audit opinion because the organisation is self-sustaining, with enough working capital for the next 18 months. This is a big accomplishment considering that non-profit organisations frequently fail to survive because they run out of money or donor funding even if their passion resonates.
Jo-Ann also plugs into her wide finance industry contacts to help CAFSA. She helps mobilise her industry peers to offer their support and skills.
About Jo-Ann's contributions to CAFSA, Gill says: "she is notoriously shy about her contributions. She is extremely humble, and we are so lucky to have her. She chairs our board even though her Bowmans work diary is impossible. But she makes time for CAFSA."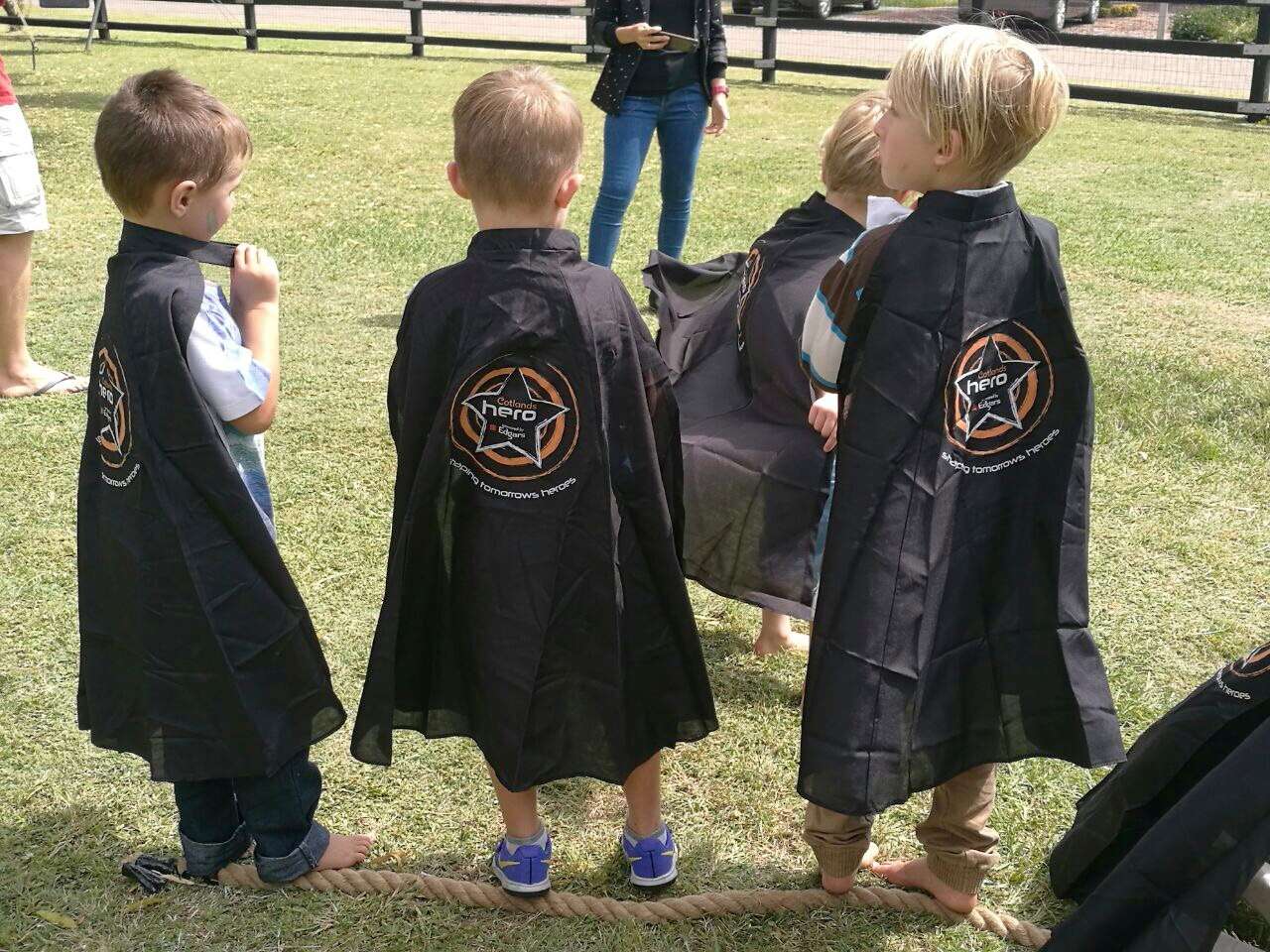 Photo: Cotlands super hero capes for all who made a difference.
Proud CAFSA moments
Asked what she is proud of regarding her involvement with CAFSA, Jo-Ann pointed to the Beyond Painting Classrooms initiative, which was established by FirstRand in 2012 with the support of CAFSA.
Beyond Painting Classrooms (BPC) is an employee volunteering initiatives, and as the name implies, is about doing sustainable philanthropic work; beyond painting classrooms at disadvantaged school for one day and neglecting the school thereafter. Jo-Ann says "This goes beyond 67 minutes on 18 July to a more strategic approach to employee volunteering. In fact if we are capable of doing something and able to do it … doing nothing is unethical as good corporate citizens and good people."
It's also about focusing on long-term philanthropic work such as mentoring high school pupils, university students, new entrants in the job market and entrepreneurs, which Jo-Ann still manages to do despite her day job at Bowmans.
Jo-Ann says she is always inspired by the feedback she gets from people or organisations she has helped through BPC. "After the one BPC event, The Teddy Bear Clinic for abused children came back to us and said they felt empowered around what they can collectively do to rescue more children or give more children dignity. They left the event with solutions and potential access to donor funders."
Photo: Happy birthday to all!
Giving in her DNA
Giving back is in Jo-Ann's DNA. She credits her father, who lectures students in Tanzania about the mining industry, and mother, a former teacher who now runs a soccer academy for underprivileged children, for instilling the value of uplifting less fortunate people. Jo-Ann's parents also counsel cancer patients and their families as well as working with children, fostering in their younger days and adopting their two eldest sons which says was an awesome, life-changing decision.

"They taught us (Jo-Ann and her younger brother and sister) to be kind and to make someone's life easier. If you make it easier and believe in them, you create an opportunity for them. And if you create an opportunity for someone, you help them realise their potential."

These are lessons that Jo-Ann and husband are passing down to their four children.  Their two youngest children – Micheala (eight-years-old) and Ethan (seven) recently agreed to donate their birthday gifts to various charities.