CFO Cares: SAA interim CFO Deon Fredericks making the case for giving back
Deon Fredericks, the interim CFO of South African Airways, might be in the throes of rescuing the struggling state-owned airline from collapsing but he still makes time to give back to society. He supports the CFO Case Study Competition, which is run by CharterQuest Institute South Africa and aims to groom high school (junior) and university students (senior) for the finance profession.
Lately, it is hard to pin down Deon Fredericks, the interim CFO of South African Airways (SAA), as he doesn't have the luxury of time in his daily corporate life.
"Unfortunately, I am a workaholic. I usually get to work after 6am and leave at around 7pm to continue working again from home," says Deon.
There is a valid reason for him putting in more than the 45 hours that most people work in a week. Deon and his team at SAA are racing against time to save the state-owned airline from collapsing as it is in throes of business rescue.
Tough decisions are being made at SAA: employees will have to be retrenched and the airline's operating model will have to be drastically overhauled to align with the significantly changed operating environment and to take account of the effects of Covid-19.
Restructuring SAA has been made difficult by the pandemic, which has impacted the airline's ticket sales as demand for travel has declined significantly, worsening its financial position. As Covid-19 rapidly spreads in SA, on the African continent and globally, SAA has been forced to suspend all regional and international flights until 31 May 2020 to ensure the safety of its passengers and staff. 
SAA's woes might have presented the perfect excuse for Deon to renege on his commitments outside the airline – but he does not.  Although his job is becoming even more demanding, Deon says it doesn't mean that other aspects of his life should be neglected.
One of the other aspects he referring to is giving back to society through his involvement in the CFO Case Study Competition. He is the chief judge in this annual competition that grooms third- and fourth-year university students (local and international) for the finance profession.
About the competition
The competition is run by CharterQuest Institute South Africa, an organisation that offers wide-ranging finance courses and certification programmes.
Deon's involvement in the competition dates back to 2016 when former CFO South Africa MD Graham Fehrsen introduced him to Valentine Nti, the founding CEO of CharterQuest, during a roundtable dinner attended by finance professionals.
After the introduction to Valentine, Deon agreed to work with CharterQuest to launch the inaugural CFO Case Study Competition in 2016. The competition challenges university students to prove they can solve a set of five problems that beset real-world businesses relating to integrated financial, operational, strategic and ethical issues.
Over 60 days, university students, who enter the competition as teams, are given case studies about financial and operational issues faced by mock companies (although the case studies are based on real-life company issues). They are required to submit a board report on how the company's issues can be solved. The teams are also required to submit video clips talking about, among things, why they entered the competition and how it could assist their future careers.
Throughout this process, the number of competing teams will be whittled down to six that will progress to the semi-final. They will be required to deliver presentations to a panel of judges (comprising highly esteemed finance professionals) on how to solve challenges faced by the companies. The winning team will earn themselves the CharterQuest Future CFOs & Business Leaders' Award and R100,000 in prize money.
Deon says the objective of the competition is to prepare the next generation of CFOs and business leaders – equipping them with "beyond number counting skills" such as being entrepreneurial, analytical, critical, creative and having emotional intelligence.
"When companies hire finance graduates, they tend to focus only on the academic performance of students. I believe this is not sufficient anymore. Many good entrepreneurs didn't necessarily perform well at school.
"The competition gives students exposure to practical cases experienced in the profession. It does not necessarily focus only on finance; we look at how students can develop and implement a company strategy. It also provides a platform for students to gain self-confidence as they have to stand in front of four or five judges with an audience and present their solution to the case studies."
He stresses that the confidence-building aspect of the competition is important.
"I often tell students that winning the competition is not important. It is about what you have learned through the process. Students are not taught in university about how to be confident. There is nothing that breeds success like confidence in the workplace."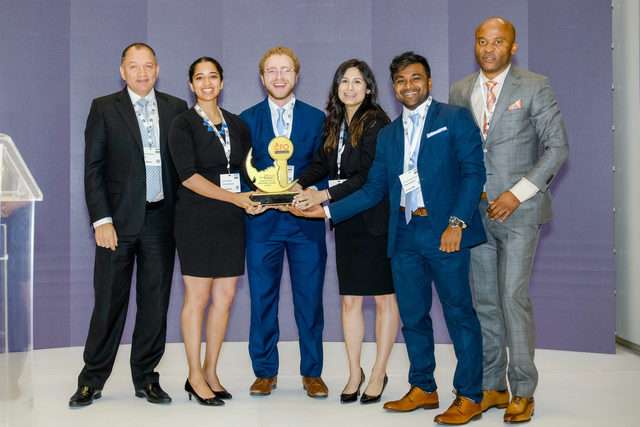 Assisting building the CFO of tomorrow
Asked why he continues to support the competition for the fifth consecutive year as Chief Judge in 2020 despite his demanding work schedule, Deon says it's about a personal mission to improve the skill set of future finance professionals, which will benefit the entire industry and the country.
"I want us to move away from creating accountants to creating businesspeople. If you look at the role of the CFO, it is constantly changing. Previously, we said CFOs were bean counters. Ultimately, they are becoming strategic partners in an organisation. They need to understand the operating environment, the history of a company and where the industry is headed to ensure that the company can compete effectively in the future.
"I want to equip students with the ability to look beyond accounting and to be actively involved in running and managing the business."
Deon grew up in Kuilsriver and attended high school in the disadvantaged community of Elsies Rivier in Cape Town, where there weren't a lot of mentoring and career-grooming opportunities. "When I was in standard eight at school, one of my teachers told me that university is so tough. Students who didn't perform well academically were told they wouldn't survive university. This was the wrong message."
Deon defied the views held by the teacher as he completed a university accounting sciences degree.  There was another challenge ahead when he completed his articles at Coopers & Lybrand (now PwC): the dearth of mentorship opportunities to match his potential to an area of interest in the finance profession.
"The week before I started at Coopers & Lybrand, I phoned one of the partners and asked him 'what he expects from me?' He said: 'I don't expect anything from you because you know nothing'. This made me realise that what you have studied at university and what happens in a workplace setting are not the same." Deon doesn't want the next generation of finance professionals to go through a similar lack of mentorship experience.
Beyond the CFO Case Study Competition, Deon also visits the institute on weekends to speak to finance students about his career journey and how to approach their own   He also offers these motivational speaking engagements to students and teachers at his former high school in Elsies River, which is now beset by gangsterism.
Deon has challenged and implored his finance industry colleagues to offer their time and skills to the CFO Case Study Competition.  "Even though CFOs are going through intense periods in their line of work such as preparations for financial results, they must be committed to giving back to society," he says. "Unfortunately, we see people join various initiatives and halfway through, they leave. Ultimately, it is about CFOs being consistent, not only in their everyday work but other initiatives that they work with.  I look forward to making a meaningful contribution to the finance profession for the benefit of our future leaders."
This article was originally published in the CFO South Africa magazine.