CFO Dinner: Leading CFOs and CHROs share how sponsorship shaped their careers
Speaking at the CFO and CHRO Women's Dinner, two leading women executives shared the stories of their professional journeys.
Christine Ramon, CFO of AngloGold Ashanti and CFO of the Year, said at the CFO Women's Dinner hosted by CFO South Africa at the Radisson Blu in Sandton, that It was great to see a room full of women, before revealing that her mother has been a significant role model in her life. 
Woman doing it for themselves at the CFO and CHRO Women's Dinner.
"I couldn't sit here today and talk about my success in the corporate world without saying that it was formed by my values. My parents divorced when I was seven, and I am one of five children. Growing up in a single-parent family, very underprivileged, relying on hand-me-downs, we really learnt to share. We learnt to support each other and support my mom, and that teaches you discipline, hard work and resilience. It helped to form my values, and I learnt to stand up for what I believed in from a very young age. And I don't believe that it's possible to be two distinct people – one at home and one in the workplace. You can mask certain things in your professional life, but I believe that our values make us who we are, wherever we are." 
She then spoke about her professional growth, and how when she was at Johnnic, she felt ready for the CFO role and put herself forward, but didn't get the response she wanted right away. Two years later, she was offered the position when she was about to have her first baby. 
"Cyril Ramaphosa was the chairman of the company, and he took a chance on me. I didn't have the track record, but I was given the opportunity. When I wanted it, I didn't get it, when I got it, I popped out a baby. But I took the opportunity. And once you get onto the CFO level at a listed company, you are on the radar." 
She moved on to Sasol after a hostile takeover at Johnnic. The Sasol CEO was her sponsor, wanting a black woman in the role. 
"The company was dominated by white Afrikaans men closer to the age of 60. I was on average 20 to 25 years younger than the rest. I had been through a hostile takeover and I was fearless, and I felt that I could add value because I had the background, the financial management skills and the management experience. The analyst reports came out, they were watching, saying 'she has to prove herself'. There's that unconscious bias. Women have to prove themselves, demonstrate resilience, demonstrate the ability to adapt to a completely different industry. But the CEO wanted to bring a black woman into the role, and I am proud to say that I was a part of the transformation journey."
After seven and a half years, she took a break to reflect on whether she wanted to stay in the corporate space or go into consulting. She was then approached by AngloGold Ashanti, to come on board as CFO and help to resolve the very burdened balance sheet. 
"What remained important to me and should be important to others is the culture of the company you join. I identified with the culture and felt that I could make a difference. I've been able to bring more women into my finance team. And I'm now losing one, my mentee who became the CFO of Impala Platinum and worked her first day there today."  
She concluded by saying that while she's had a successful journey, there were failures along the way. 
"Failure causes one to reflect, to do introspection. It's very important to believe in yourself. Affirmation is so important – to have others believe in you, you need to believe in yourself first." 
Tantaswa Fubu, the Group Executive: Human Capital, Internal Audit and Corporate Affairs at Barloworld, then shared her story. She said that her father was her original sponsor.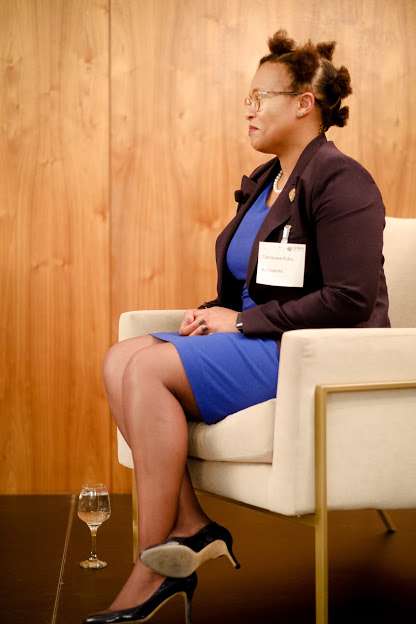 "I had two brothers, so I have always been daddy's apple, but instead of spoiling me rotten, he pushed me all the time. Every time he spoke to me, he would say, 'go into the unknown.' That was his tag line." 
Despite the challenges of an apartheid education and a poor result in maths, Tantaswa studied at university and began to scale the corporate ladder. After two years of working, she saw an advert in the Sunday Times that said she could do a one-year course at UCT to become a chartered accountant. She missed the starting date for the accountancy conversion course, but enrolled in a stats course through Unisa, and then applied again the next year. 
"They said that there was no way I could do the course. My maths was non-existent, and I was married with a young child. My sponsor at KPMG, , Mike Blomkamp, who was the Senior Partner of the Cape Town office who unbeknown to me told the Conversion Course Director that he will stop sponsoring the B Comm Accountants' Conversion Course if they did not admit me."
Tantaswa now counts a CA(SA), a postgraduate diploma n accounting, a higher diploma in banking law and a certificate of proficiency in short-term insurance and an honours degree in admin under her name. 
She did her articles at KPMG, where she says she had a woman mentor and sponsor. "She would ask me how things were going, and would stand up for me in meetings when I wasn't there." She joined Nkonki in 2002 after working for The Standard Bank Group Risk. In 2003, she was made partner at Nkonki. During the 2002/2003 terms she had been doing joint audits with PwC and Deloitte. It was some of the senior partners in these firms who told her CEO at Nkonki, "If you do not make her a partner, we are going to steal her." 
In 2007, she went back to KPMG as a partner in the technical accounting division, where she did opinions for clients on the applicability of the international financial reporting standards. This is where she met another career sponsor of hers - Devon Duffield, who she described as an "amazing leader."
In another role, she was put forward for a role by her manager, Devon. 
"One day I was reporting to him, the next day it was reversed. How he handled this was amazing because we already had a planned trip to our Cape Town office, to engage with our partners there on transforming the business. When we got there, the room was tense (could have been the topic at hand or the recent leadership changes and people not knowing how the dynamics between Devon and myself would unfold).... he put up the presentation, looked at me and smiled and said 'take it away boss'."
She says he remained her supporter, mentor, sponsor and friend, and when she went through a divorce, he knew when she needed to be taken out of the office to cry. "He's just one of those people who has really been there for me in the long haul." 
Tantaswa's parting shot was that she does not believe in the concept of "self-made" people, as no one births themselves.
"We all have people who help pull us up, whether known or unknown to us."
These two women's stories highlight the importance of sponsorship in a woman's life. Inge Walters, founder of Eve Learning and facilitator of the Women's Dinner pointed out that both women listed many supportive men among their mentors, underscoring the importance of men offering women their sponsorship as well as other women. 
The panel wound up with Christine urging the other women in the audience to "pay it forward" and do for other women what had been done for them – and more – in the past. 
The Women's Dinner was sponsored by Workday, PwC and Transparent, underscoring these companies' commitment to promoting and supporting women leaders in the workplace.