CFO Journey: finance leaders learn about hope, innovation and value creation
The first ever CFO Journey, a two-day programme designed to touch the brains and hearts of finance leaders, was off to a great start with 20 top CFOs learning and networking together.
"Hope is an enabler, a catalyst for innovation, and it unlocks potential - and potential drives value," said Marlon Parker, founder of RLabs.  With dozens of questions and a healthy multiple of laughs, South Africa's first ever CFO Journey was off to amazing start on 19 July with visits to barnstorming FinTech company Jumo and RLabs, a massive social-entrepreneurial success story that to date has been exported to 22 other countries.
With 20 CFOs from companies like Standard Bank, Capitec, Sanlam, Santam, Discovery Health, I&J and Curro joining the ride, the purpose of CFO Journey is for finance leaders to think about innovation that creates value. The programme also includes presentations around Bidvest's audit robot named Alice, Capitec's winning model and a dinner hosted by Remgro CEO Jannie Durand at the company's luxurious establishment Fleur du Cap.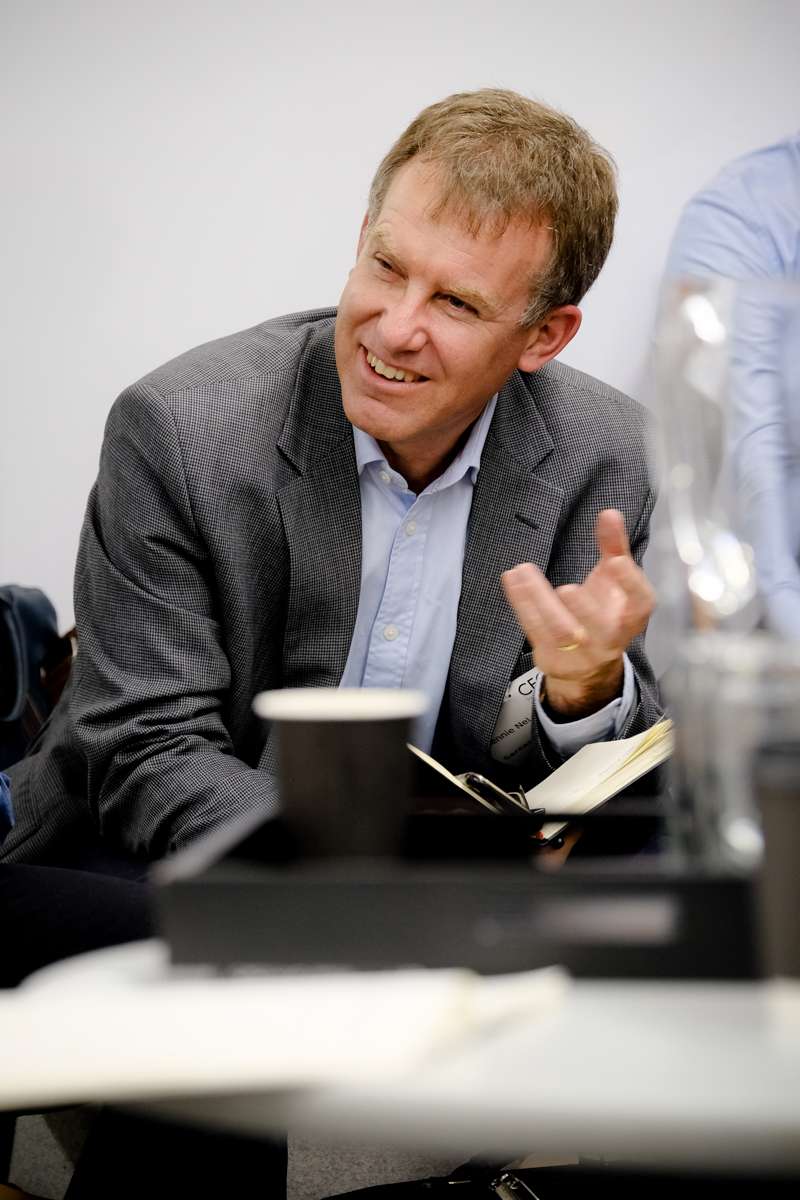 After a round of introductions, during which all CFOs shared some details about themselves – and wrote them on post-its – the day started at the Starwars-themed headquarters of Jumo, an app-based microlender that aims to make finance and savings available to developing African countries and elsewhere in the world. Jumo provides loans from $1 to $50,000 through a mobile money system.
"We test, learn and try anything," said Jumo's Charl du Plessis in answer to one of the many questions CFO's fired at him, some about the technical details, some about the hiring practices and some about the way Jumo partners with mobile network operators and financial services. "Everyone here is weird," he joked, reflecting on his work history at a traditional bank: "I have never worked so hard in my life, but I have never had so much fun either." Asked how the organisation manages to stay nimble and innovative, Charl said that "it is crucial to carve out time in the calendar to think and to discuss." 
Next up was RLabs (Reconstructed Living Labs) in Bridgetown on the Cape Flats, with an incredible story of perseverance and entrepreneurial genius from founder Marlon Parker. "We are in the business of making hope contagious he said," detailing how RLabs has supported over 1500 small business by putting faith in young people with hope. "We have launched over 80,000 people through our labs into the economy. We learned that trying things the way we do is called design thinking, the lean start-mentality we know from our mothers who took care of us and marketing we have learned from the best ones out there, the gangsters who are extremely good at creating influencers and making people join."
With RLabs opening across Africa, in Portugal and in Texas, Marlon has exported the idea that young people with problems are by default the best placed to be the experts that can solve those problems. "We always start with big thinking and then we throw in a constraint like time or resources, which is how we quickly find out if something works and if we can do it lean." Initiatives range from new cryptocurrencies that promote good behaviour among jobless to community radio stations, these days in partnership with the BBC. "We aim to impact 2 billion people by 2030. All diamonds come from the rough, but someone has got to be willing to do the mining."