IDC CFO Nonkululeko Dlamini joins Kumba Iron Ore as director
JSE-listed exploration and development company Kumba Iron Ore has announced the appointments of Nonkululeko Dlamini and Seamus French as non-executive directors to the Board, effective 1 November 2016.
Fani Titi (pictured below), Chairman of Kumba Iron Ore, said:
"On behalf of the entire Board, we welcome both Ms Dlamini and Mr French and we look forward to their valuable participation in our discussions as we continue to build Kumba's resilience as a business for the benefit of all its stakeholders."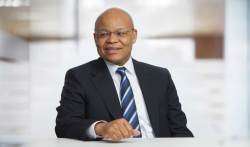 Nonkululeko, currently CFO of the Industrial Development Corporation (IDC), as well as the shareholder representative, has been appointed as a full director. Seamus, currently the CEO of Anglo American's Bulk Commodities business, has been appointed as an alternate director to both Natascha Viljoen and Andile Sangqu, the current Anglo American representatives on the Board.
Prior to joining the IDC in September 2015, Nonkululeko was with Eskom, where she spent 14 years in various executive positions. She holds a BCom degree and is a Chartered Accountant (SA).
Seamus joined Anglo American in 2007 and held the position of CEO of Anglo American's Metallurgical Coal business between 2009 and 2013, and CEO of the global Coal business until 2015. He holds a degree in Chemical Engineering.